Perfect for New Year's Eve & New Year's Day
Discover 15 Party Dishes, Drinks & Desserts So Good That There Won't Be Any Leftovers!
Take your New Year's celebration to a whole new level of enjoyment with these 15 delicious party recipes.
We have compiled 15 easy-to-make recipes for your New Year's Eve or New Year's Day celebration and put them in one convenient ebook that we now want to give you for free!
That's right! You can have these recipes for no charge – just click the button below.
You'll get recipes for Pumpkin Bread Skewers, Salmon and Cucumber Tarts, Spicy Oven Fried Catfish Tenders, Paleo Egg Rolls and much, much more.
And maybe the best news of all is this – these recipes are all good for you! Besides tasting delicious, they all contain foods that help reduce inflammation in the body.
Inflammation causes joint pain, fatigue and the signs of aging, like wrinkles and dull, saggy skin. If left unchecked over a longer period, inflammation can even lead to serious illnesses like cancer and diabetes.
So, make sure you kick off the New Year the healthy way – without sacrificing any taste.
This free ebook also contains recipes for flavorful party drinks and mouth-watering desserts like Red Velvet Brownies and Coconut Snowballs.
To receive your free New Year's cookbook, click on the button below.
Just tell us where to send it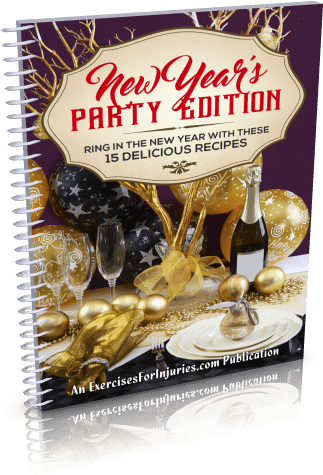 We value your privacy and would never spam you